Dear Amy,
Yes, I was researching for a Brooks Saddle for my new Trek 520, and I know that you know everything I type in my browser.  The All-Seeing Eye, y'know.  Annuit Coeptis and all that.  If you were a person, you'd be a stalker.
You were seductive, Amy. Your price was compelling at $135.00.  That's $15.00 off retail of $150.00!  Generous!  And free shipping too with Amy Prime.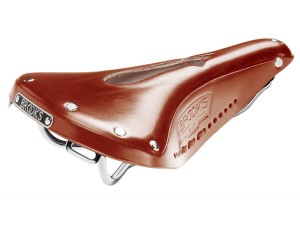 But you know, Amy, something didn't feel right about buying that saddle from you.  I admit that sometimes I have purchased books and other commodities from you.  After Border's Books crippled the independent booksellers then stupidly went bankrupt (Barnes and Noble will too, I predict, by next summer, after losing $111,000,000 year over year), the only place I can get some books is from you.  So I hold my nose and push the return key.  Sorry, Amy.
In case you don't know, Amy, Brooks Saddles have been hand-made since 1866.  If you haven't ridden a bicycle with a Brooks Saddle, you haven't lived. They're sculptures as much as saddles.  Sure, they take a gerbil's lifetime to break in, but when they do…oh, the comfort.  And they last forever.
Amy, I hope you can see why the idea of buying a hand-made item, the epitome of specialty product, from a company whose distribution centers would cause Upton Sinclair to spin in his grave didn't sit well with me.  I felt, well, like a hypocrite. Especially since I own a specialty retail shop myself.  I'm surprised you didn't know that about me, Amy.
I looked around in town, but the local guys didn't have the saddle I wanted (or they were too busy trying to out-bro each other).  I went to the web, and it took me a while, but I finally found a shop that was locally owned and operated that had the saddle on their website. I found the object of my lust at Harris Cyclery in New Weston, Mass, established 1952.  The price was $145.95 plus $7.99 shipping.  $153.94.
Notice, Amy, I paid $18.94 more than I would have paid you. That's because the guys are Harris Cyclery know what they're talking about. Thanks to Harris Cyclery, I no longer need to purchase a Brooks B17 saddle.  They took care of me. And because I'm a new customer and told them about this whole transaction (i.e., breaking up with you), they sent me a cool t-shirt. I will wear it proudly. Don't bother sending me an Amazon shirt, I wouldn't wear it to muck out a barn.
Please, Amy, you can stop putting ads all over my pages. If you're smart enough to know that at some point I wanted one, you should be smart enough to know I bought one. From someone else. Who's not you.  Don't be the guy with the boom box in Say Anything. I have earplugs.
Leave me alone, Amy, I'm breaking up with you.  I will actively search for new places to buy, even if it costs more.  You can try to lure me back with free shipping, best prices, on-line foot massages and sending me stuff before I know I need it.  Sorry, it won't work. I have seen past your seductive pricing structure.  That's all you have.  Price, and occasionally, really funny customer reviews. But for the most part, you're not the girl for me.
I need a relationship with someone who stands behind their product. People who actually know how it works, even if they have to climb up on a ladder to get it and don't know the part number. I need stores that don't purposefully place their distribution centers in an area of high unemployment so they can treat people like stock animals and get away with it. I'm voting with my dollars.  Your dad, Jeff Bezos won't care if I don't buy from you, but he might care if a bunch of us (I'm not a fool — you've been multi-timing me) decide to go for real instead of just cheap.
The only thing you had going for you, Amy, was that you were twenty bucks cheaper than my new friends at Harris Cycle.  And we all know what they call the person who gives it away cheapest.
Don't call, don't write.
Respectfully submitted,
Canoelover
P.S.  Just to prove it's not a fluke, I placed another order with Harry tonight.  I didn't even look to see if you had it cheaper.