Google maps can be very informative, and also entertaining.
A few nights ago I was getting directions from Canoelover Base to a hotel in downtown Chicago.  I used the little yellow street-view flying dude (see lower right) to see what the entrance to the hotel looked like.  It worked.  The Sax Hotel is across the street from the House of Blues.  Good enough.
Then I hit a button or something and the screen zoomed to North America.  Little flying dude was confused.
I dragged him to a random place in Texas and dropped him.  Not sure why.  I guess I was just curious.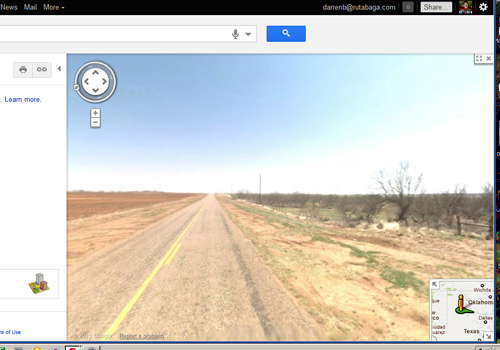 What I suspected in the middle of northern Tejas.  Dry and brownish.
I thought about Arizona.  Boom.  Done.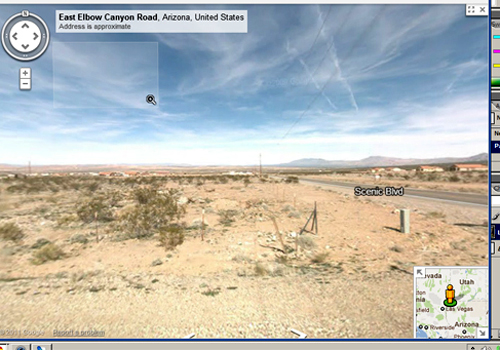 Sorta what I expected.  Dry and tannish.  What about Utah?  I predict dry and reddish.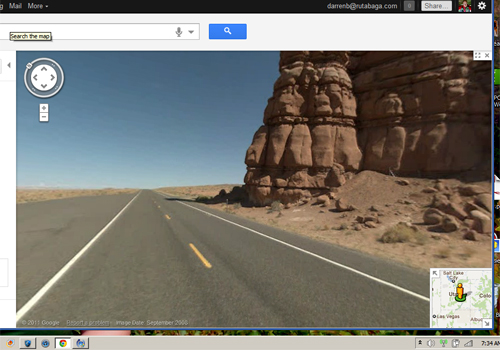 Huzzah!  Dry and reddish — but also gorgeous.  Random hoodoo!
I wondered what would happen if I did that in the Northwest Territories.  Cool.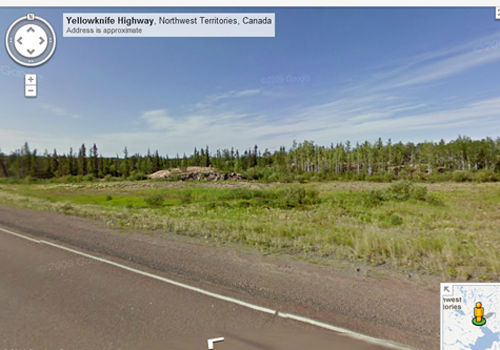 Cool.  Near Yellowknife somewhere.  What I expected.  Green.
So now the good stuff.  What about my homeland, Wisconsin?
First, the random sample of up nort, eh?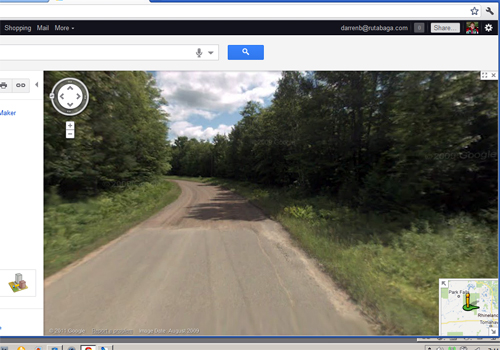 Now a random sample of down south.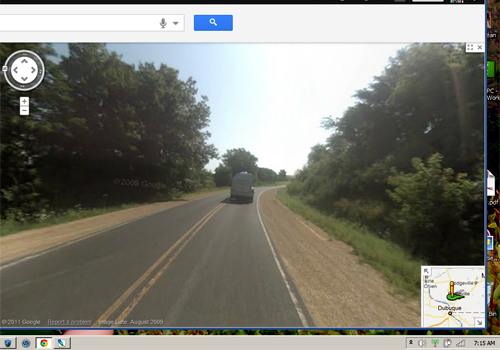 Of course, a milk truck.  Welcome to America's Dairyland.  Wisconsin vs. California?  That's like comparing apples and oranges.  Or more appropriately, milk and a white, strip-mined drinkable lactated product.
Then I decided to zero in on some favorite spots.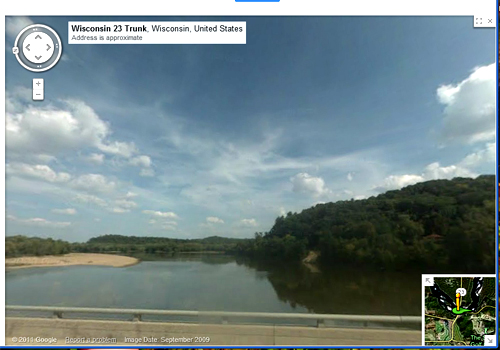 The Wisconsin River, looking upstream from the Hwy 23 bridge.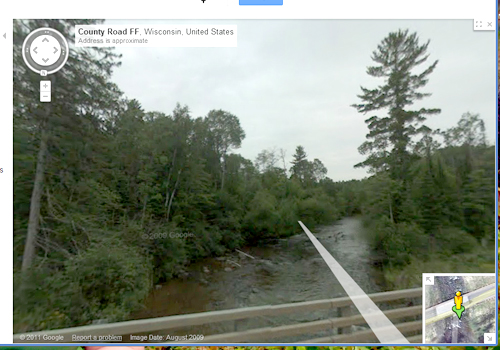 The Bois Brule, looking upstream from Cty Hwy FF.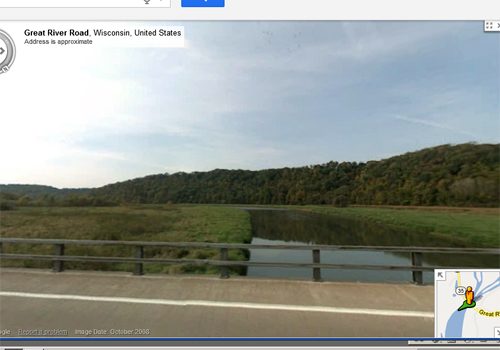 The Platte from Highway 65/31.
And one of my favorites, the Grant, near Blackjack Road.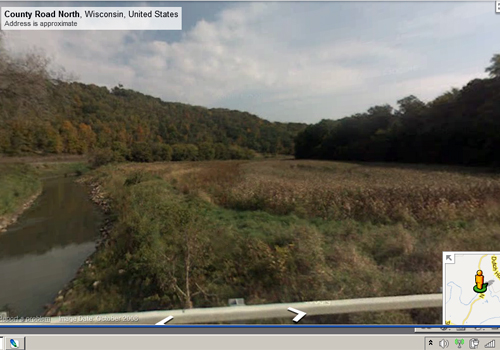 Is there any wonder I love this state?
Actually, there is wonder.  I never thought a place could be so consistently beautiful.  It's a different beauty, of course.  No majestic grandeur of the Tetons or the view of the Pacific from Bellingham.  No rain forests or Na Pali coast from Kauai.  But it is, all in all, more consistently beautiful in its infinite variation.  Make a matrix of landscapes, seasons and weather conditions and you get a pretty wide variety of states of gorgeous.  Think Clue–you know–Colonel Mustard in the Pantry with a Bratwurst.
Driftless Coulees  in the Spring during a thunderstorm.
Cornfields in the Summer when fireflies are mating.
Northern Forests in the Fall when the leaves change.
Vast lakes in the Winter, frozen over and covered with a rainbow of ice fishing shanties.
Yep.  It's that good.  But don't come here.  Stay in California.  Or Nevada.  Or New York City.  Or Florida.  It gets really cold here and you will die swifty, though somewhat painlessly.  It's just like going to sleep.  We stack frozen Californians behind the barn like cordwood until we get enough to fill a gravel truck.
I may be exaggerating.  Then again, maybe I'm not.  Don't risk it.
Respectfully submitted,
Canoelover